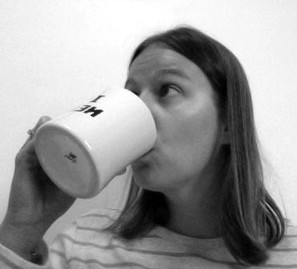 I'm Jillian.  I'm a graphic designer, an educator, an author, and the co-founder of Emspace, an online resource for graphic designers.
I began this project back in September of 2013 to stimulate some creativity among a handful of other objectives (see objectives section below).  To keep myself honest, I created this blog to display my results.
On Dec, 20 2013, I had drawn 100 ampersands in 100 days. After that I took a short break and then made a few more totaling 127 unique ampersands. I hope to add a few more as the spirit hits me, but in the meantime, I've been keeping myself busy with new inspiration projects.
Rules
I created a set of rules to follow:
Each day I will post a new ampersand drawing by 11:59am CST.
Each image will be 375 pixels on its longest dimension and will be centered in a 600 x 600 pixel canvas.
Each design will be only one color. (black)
All variations on the basic idea of the ampersand ("and") are allowed.
Iterations on old ideas are ok
(I think it is important to improve by editing existing ideas with a fresh eye, though I will do my best to come up with as many varied ideas as possible)
Perfect vectors are not everything.
(Though I pride myself on wielding the pen tool with a surgeons precision when necessary, perfect commercial vectoring is not really the big picture here. Forcing myself to create something new every day is.)
It is okay to experiment with software tools and brushes.
(Though I don't usually advocate for these things, the point is experimentation and play so in this particular application, I'm giving myself permission to use them.)
It is okay to look.
(I've decided it is okay to peruse examples. However, I vow to never save an example image or use it for direct reference. Additionally, I vow to never study any one example to carefully, and instead look at dozens at a time to avoid too much influence).
Why'd I do this? Side projects are important for designers, they keep life interesting. Why this particular side project? There are lots of good reasons, I call them objectives and I've outlined them below:
Objectives
Stimulate some creativity (as stated above)
Explore hand-drawn letterform first-hand
Gain more appreciation for typography in general
Learn admiration of even the smallest details
Create a meaningful distraction from my web design projects
Sharpen my pen tool skills
Explore font creation software
Get to know the WordPress platform a little better*
Add a little needed structure to my life
Thanks for stopping by.
May you shall enjoy,
Jillian
---
*note: I'm using a super-simplified version of the twentythirteen theme. I've barely touched any of the defaults except to remove most of the distraction and stuff I don't need. I make mention of this because I have given myself permission to focus on the content of the blog rather than the design of the blog (see objectives section bullet five for details).